Spainskills 2022: Success across the board
The Spainskills competition took place again this year from March 22nd to 25th, 2022 in Madrid at the exhibition center (IFEMA).
Spanish students or graduates of vocational training could prove their expertise in many sub-categories such as electronics, mechatronics, automotive engineering and many other fields and compete against each other in professional competitions.
PeakTech is pleased to be a supplier with a wide range of our measuring devices and laboratory power supplies.
Do-it-yourselfers: Fit for autumn
Concider to buy PeakTech measuring devices for workshops and hobby cellars now in good time!
The dark season has come and the work is shifting from outside back to the workshop and the hobby room. PeakTech offers a variety of practical and inexpensive measuring devices and equipment for the workbench. Don't forget to buy the right gifts in time for the upcoming Christmas celebrations. Whether it's a multimeter, current source, voltage tester or line finder: friends and relatives will be happy!
The successors are here: P 2005 A, 2015 A & 2025 A
The new edition of our bestsellers is finally available
For many years, our popular digital multimeters PeakTech 2005, 2015 and 2025 became bestsellers thanks to their wide range of functions and excellent price / performance ratio. Now this series has been replaced by successor models that meet the same outstanding specifications but have also been expanded as models "P 2005 A", "P 2015 A" and "P 2025 A" in terms of voltage measurement range, overvoltage category and measurement type "True RMS".
Now available:

New tablet oscilloscopes
2 & 4 CH, 70-120 MHz, 1GS/s max. sampling rate, Touchscreen
The size and design of the new tablet oscilloscope series was modeled on commercially available tablets, but it is in no way inferior to comparable table-top devices in terms of functionality and performance. With the tablet oscilloscopes it is possible to display, record or enlarge any normal measured variable and waveform as with a stationary oscilloscope in order to display even small details. This innovative series offers two- and four-channel models with bandwidths from 70 to 120 MHz and can perform measurements with a sampling rate of up to 1 GS / s.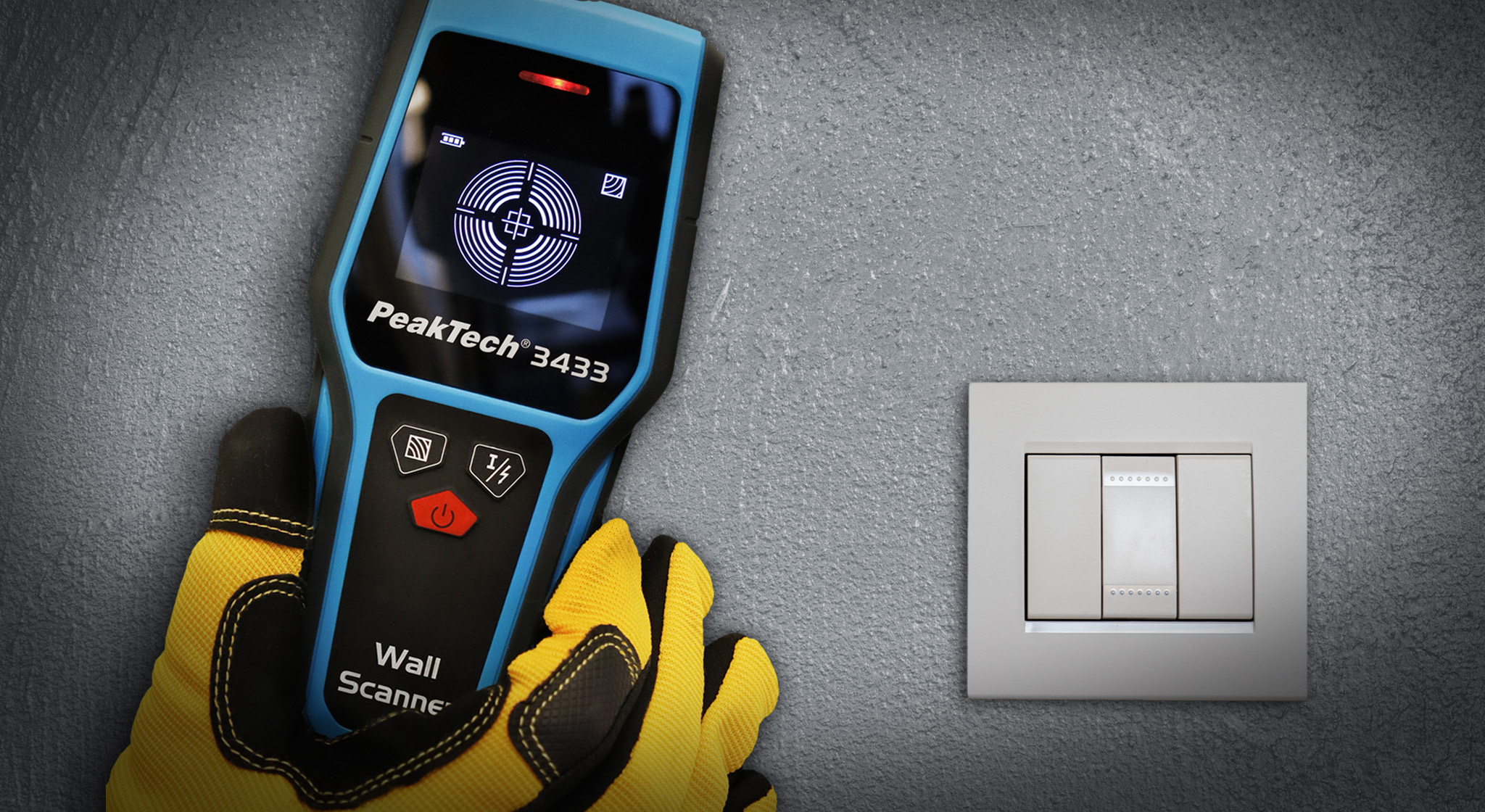 Available spring/summer 2021:

PeakTech 3433
Wall Scanner for Metal, Wood and live-wires
This practical wall-scanner is used in preparation for drilling, chiselling or cutting work at construction sites and was developed to find metal, wood and live conductors in walls, floors or ceilings. The inverted and easy-to-read LCD display visually shows the distance to the material found and helps the user to evaluate the internal condition of the wall before e.g. pipes are damaged or short-circuits in power lines occur by accident.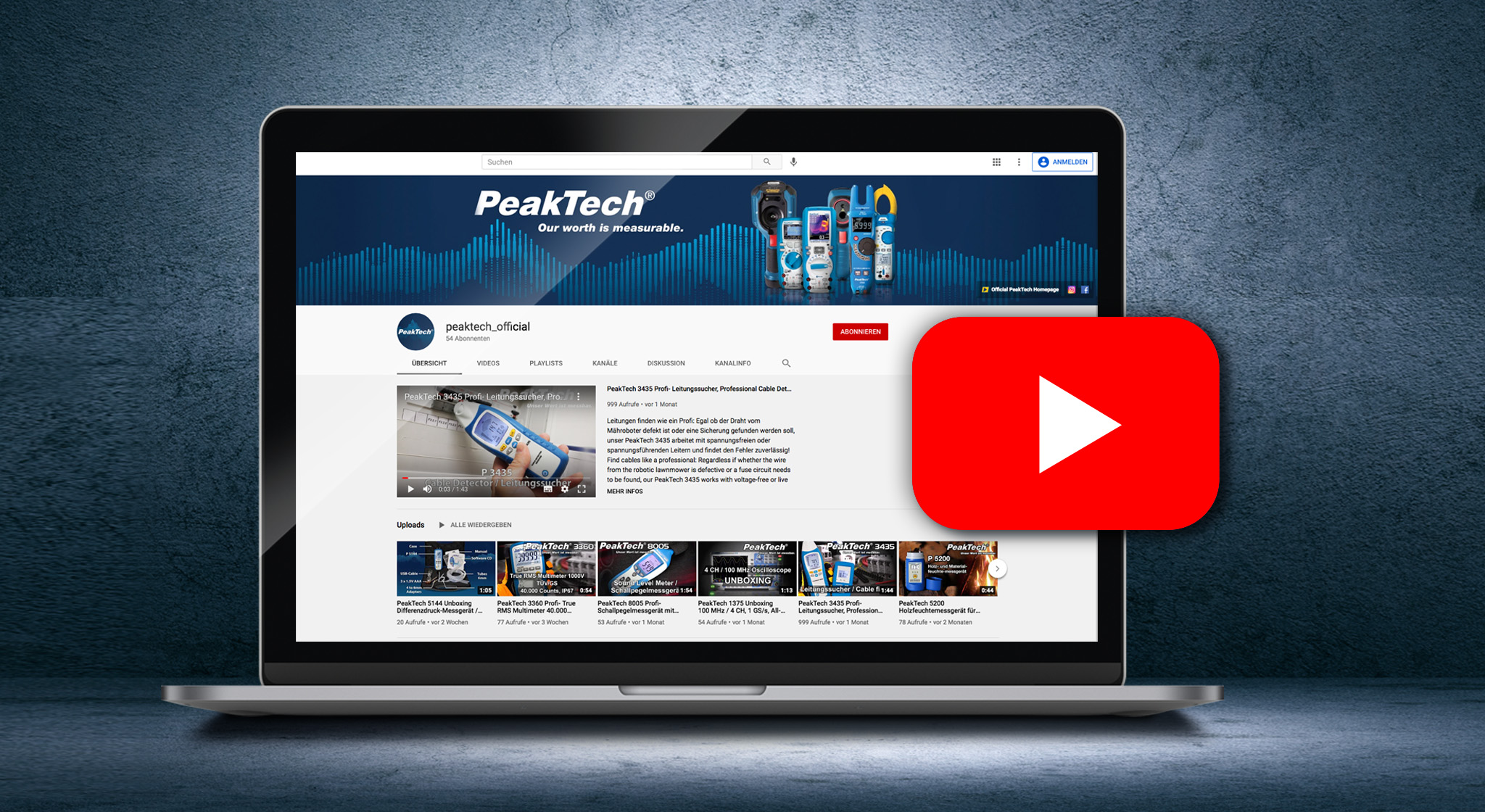 10 January 2021:

PeakTech YouTube Channel
Here you can find all PeakTech product videos!
Subscribe to our YouTube channel now and see trade fair reports, new announcements or application videos of our products. The new channel will be expanded over the next few months with exciting videos and new content will be added regularly.
We look forward to seeing you!