«PeakTech® P 1640» TrueRMS power current clamp 1000 A AC/DC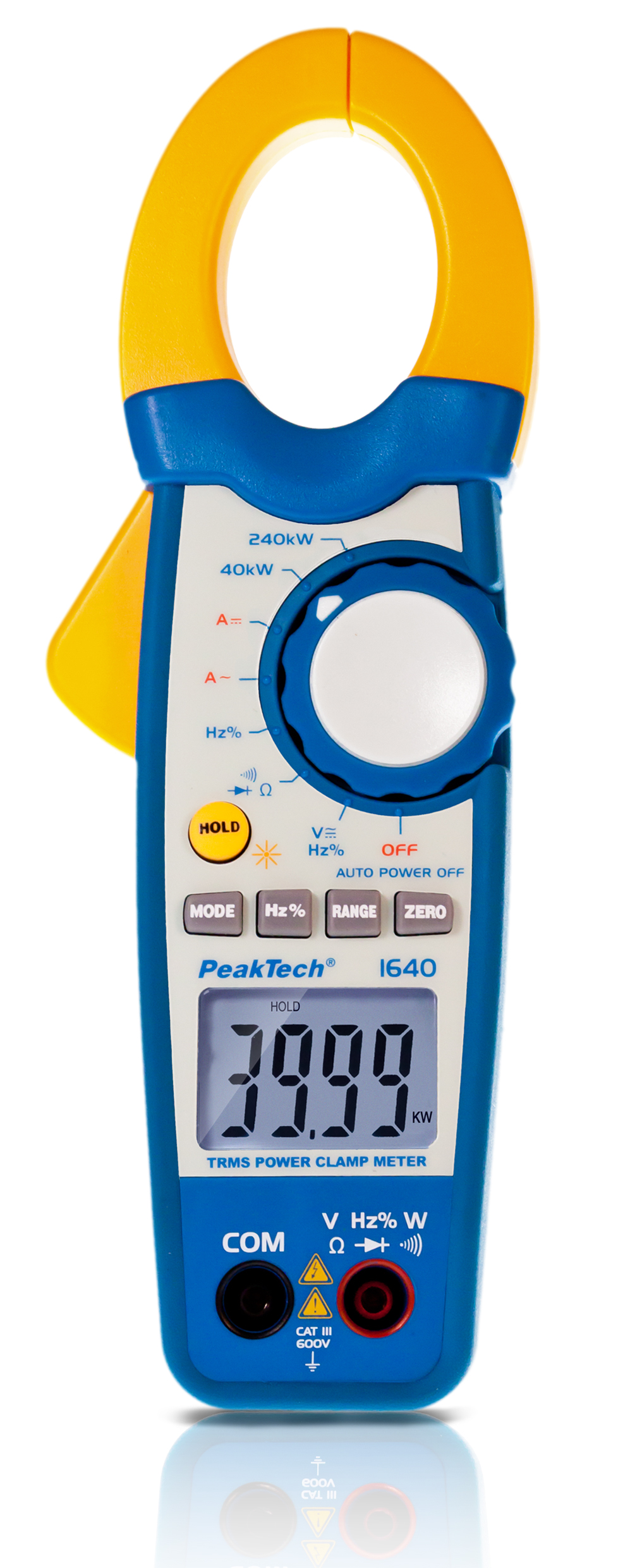 Product information "«PeakTech® P 1640» TrueRMS power current clamp 1000 A AC/DC"
The PeakTech 1640 can be used as a DC or AC current clamp up to 1000A, but as a special function it also offers a measurement of the power consumption in single-phase networks. If a current-carrying wire is placed through the jaws of the pliers and the test probes are connected to the associated voltage source at the same time, the power consumed is displayed in kW. This current clamp is ideal for current measurement in electrical systems and control cabinets, since only single wires are guided through the clamp jaws for contact-free current measurement and no electrical connections have to be disconnected. In addition, this model has extensive multimeter functions for voltage, resistance and frequency measurement. Continuity tests with acoustic signals and diode tests can also be carried out. This clamp meter carries out measurements as a true RMS value (real effective value) and is suitable for electronics engineers, service technicians or industrial users due to its high functionality and easy handling.
| | |
| --- | --- |
| Digital counts: | 4.000 |
| Display Type: | LCD |
| Over voltage category: | CAT III 600 V |
| Power meas.: | ■ |
| Range selection: | Auto |
| True RMS: | ■ |
| A AC max.: | 1000 A |
| Hz max.: | 100 kHz |
| OHM max.: | 40 MΩ |
| mV DC max.: | 400 mV |
| mV AC max.: | 400 mV |
| A DC max.: | 1000A |
Suitable for DC direct and AC alternating current measurements up to 1000 A
Englisch Power measurement on single-phase systems up to 240 kW
LCD display with 4000 digits and backlight
True RMS voltage measurements up to 600 V AC / DC
Resistance measurement, continuity tester and diode test
Frequency measurement and Hz / duty function
Data hold function, automatic and manual range selection
Zero function for direct current measurements
Conductor diameter up to max. 35 mm
Safety: EN 61010-1, CAT III 600V
Accessories: test leads, carrying case, battery and manual