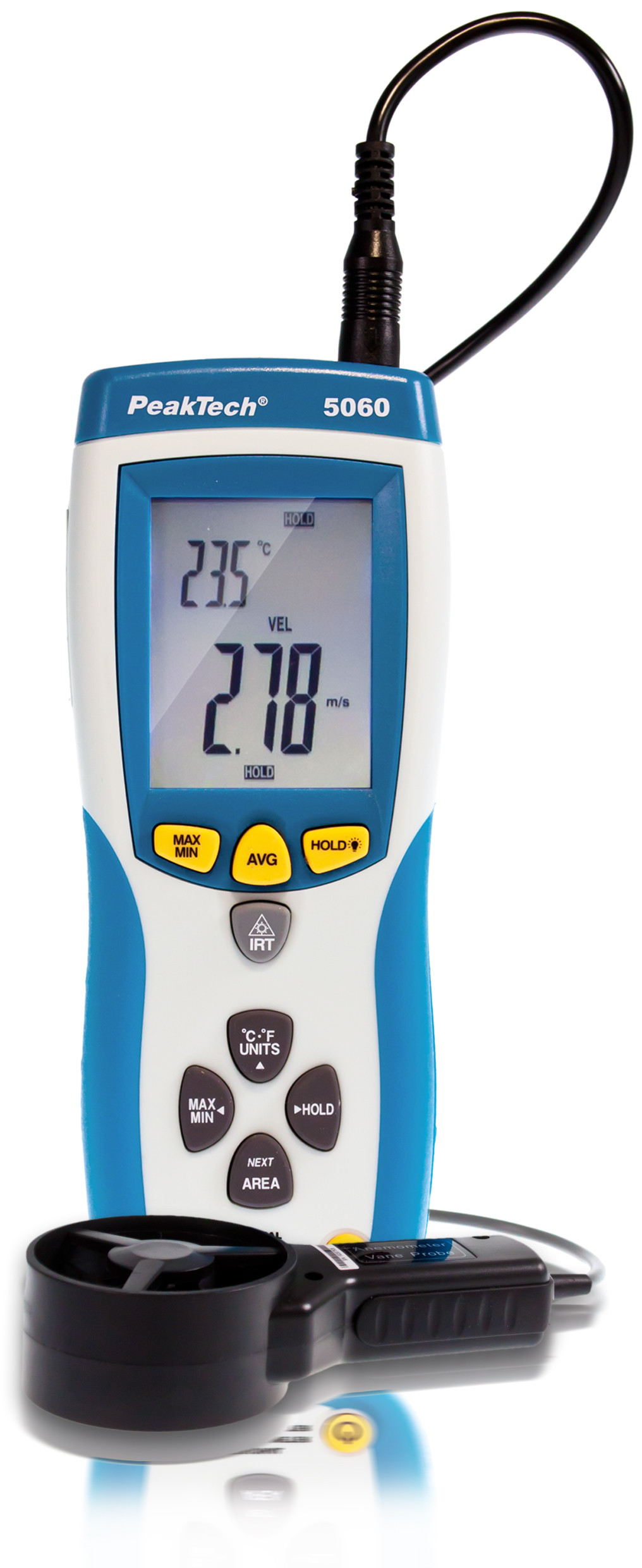 «PeakTech® P 5060» vane anemometer & IR thermometer ~ -50 ... + 500 ° C ~ with USB interface
2 in 1 vane anemometer with integrated non-contact IR thermometer and digital multifunctional LCD display, which has a backlight. The PeakTech 5060 is used for measurements of air velocities, air flows and surface temperatures, which are displayed up to 500 ° C (932 ° F) with 30: 1 optical resolution (distance-to-spot). The combination device can be used in the installation, repair, diagnosis and optimization of air conditioning technology, testing, installation and testing of extractor hoods, installation, maintenance and analysis of ventilation systems, testing / analysis of ambient wind and temperature, boiler room, ionizer flow monitoring, aerodynamics testing of automobiles, factories - and building maintenance. The USB 2.0 interface and the supplied software enable the logging of measured values over longer periods of time.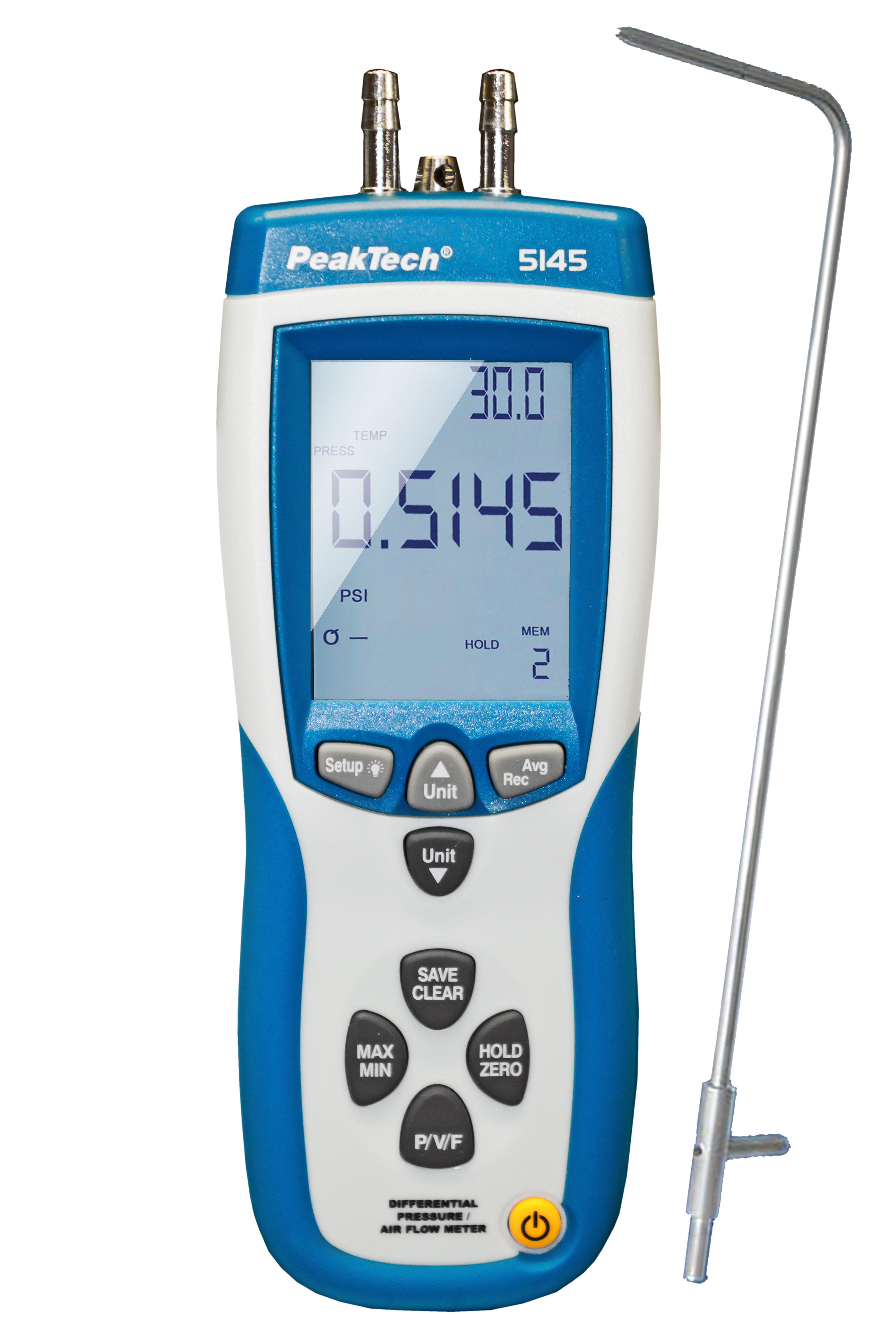 «PeakTech® P 5145» Professional Pressure-Difference & Air Flow Meter
The PeakTech 5145 is a 2 in 1 measuring device for determining pressure differences and air velocities or air masses, with a digital multifunction display and backlight. The ambient and air temperature is also recorded. This combination device enables the use in installation, diagnosis, repair, maintenance and optimization of air conditioning, heating and ventilation systems and uses a Pitot tube to record the various measured values. The USB interface and the supplied software are used to log the measured values ​​over longer periods and it is used to read the integrated measured value memory for 99 measurements.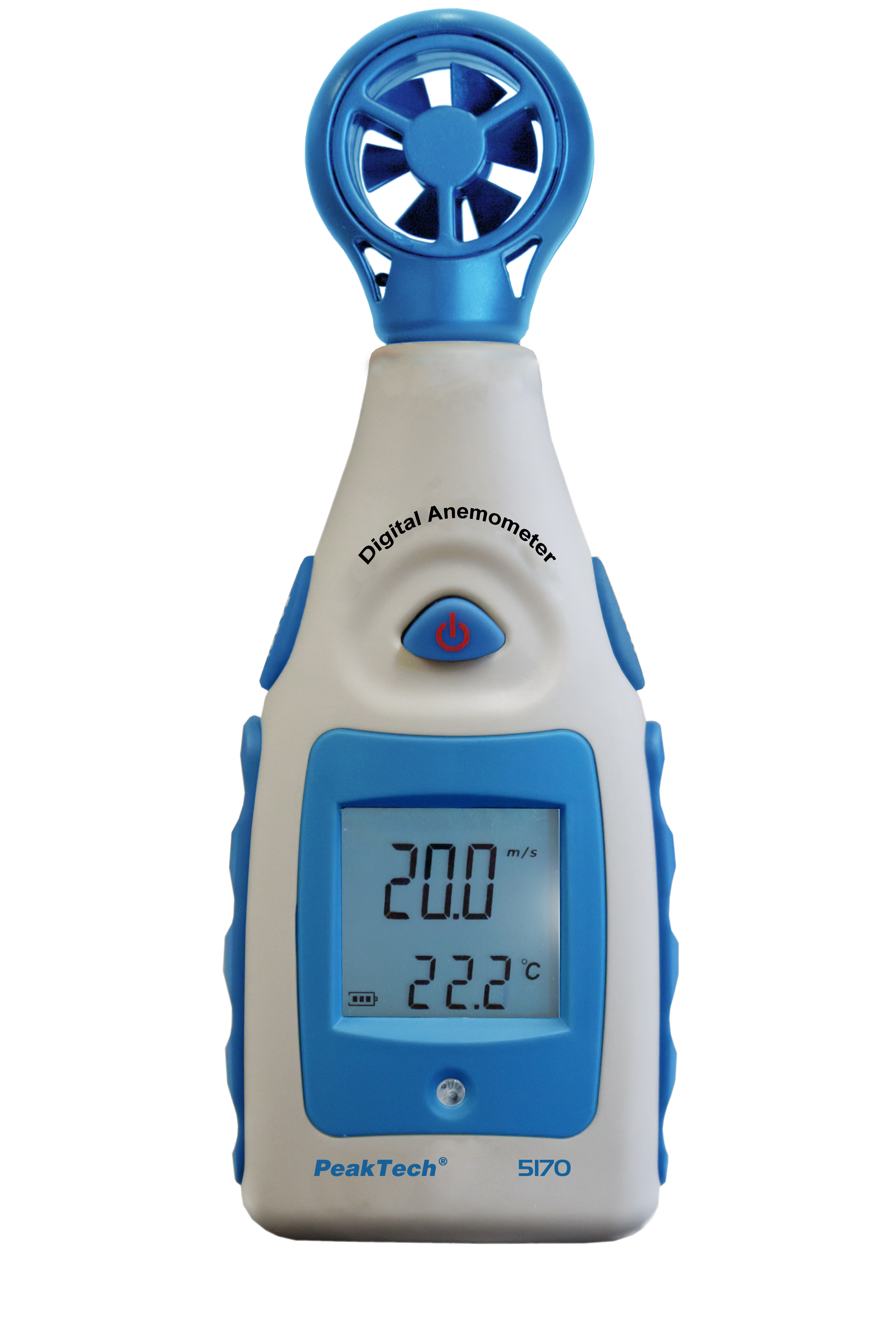 «PeakTech® P 5170» Vane anemometer with thermometer
This handy vane anemometer measures air speeds in meters / second, km / h, feet / minute, knots and miles per hour, as well as the current air temperature while simultaneously displaying the two measured values ​​on the display. The multi-line LCD display is equipped with an automatic backlight, which activates itself at low brightness via a photodiode. On the side there are buttons for data hold, MAX, AVG or the measurement function selection. This handy and inexpensive device is particularly suitable for teaching aids or outdoor use.